Version:
Program Toru

n Visits Leiden 2011, 22-25 june




| | | |
| --- | --- | --- |
| | | |
| Peurbakkentocht | Torun Music School | Half Light |
---
Overall Program
Aantal gasten : ±

45 incl. 2 chauffeurs

Programma

bezoek van de groep uit

Toruń

in

de periode 22-25 juni 2011




Program

Visit Toru

ń

> Leiden

22-25 june 2011

Telephone-number:

+31 6 49700692


Woensdag 22 juni







Responsible

17.00 – 19.00 uur

Ontvangst in de Regenboogkerk, Merenwijk, Watermolen 1

Avondmaaltijd (soep met broodjes, evt Turkse pizza): .......

Gasten worden vanaf 18.00 worden opgehaald door de gastheren/vrouwen. Chauffeurs in Bastion Hotel (Els boekt, Frans brengt).

Arrival in Regenboogkerk, Merenwijk, Watermolen 1,
Guests from Torun can be picked up from 18.00


Els/Greet. Verder aanwezig: Frans, Roland, Carel,.................

Donderdag 23 juni







Ochtend/Middag

Individueel programma

Personal Programs


15.00

Peurbakken boot aankleden (apothekersdijk)

Outfitting boat

Roland ea

16.30 – 17.30

uur
Ontvangst op Stadhuis (B.

Dordregter

) . Toespraak

weth

. De Haan. Evt. optreden muziekgroep.
Reception in Townhall, music by group of Magdalena Cynk (music-instruments can be left in the Townhall)



18.30 uur

Inschepen boot aan de beestenmarkt

Embarquement boat at Beestenmarkt

Roland ea


19.00 uur




Start Peurbakkentocht. max 35 personen
Thema 25 jarig mooi huwelijk van Leiden enTorun
Singer Cees van Wetten.


19.00 Start Peurbakkentocht, Theme: 25 year of good marriage of Leiden-Torun

Roland Wilbert


21.00 uur




D

eelname aan feestelijkheden in

Leidse

binnenstad
Let 's party in town !!!



21.30 uur


Optreden van de band 'Half Light' in cafe Praethuys aan het vrouwenkerkplein 79

concert of the band 'Half Light' at cafe 'Praethuys' at vrouwenkerkplein 79

Ron Mittelmeijer










Vrijdag 24 juni








10.30 uur

Stadswandeling v.a. Stadhuisplein o.l.v. 2 gidsen: Rien Rijk, Edwin Orsel

Guided tour Leiden, departure Townhall square

Edwin Orsel

12.30 uur


Onderbreking stadswandeling voor lunch in Restaurant 'de Valk' (naast molen de Valk)

Lunch in Restaurant 'de Valk' (near windmill 'de Valk'

Frans

+ assistentie werkgroep)

13.30-15.00

uur


Voortzetting stadswandeling, De Valk en bezichtiging molen. (Frans)

Continue guided tour Leiden, into Windmill 'de Valk'

Frans

16.00-17.30


Optreden muziekgroep

Magdalena

Cynk

in de Tuinzaal van societeit de Burcht (Burgsteeg 14) met

Magdalena

Golebiowska (zang)

Magdalena Cynk and musicians in 'Tuinzaal van

societeit de

Burcht' (near 'de Burcht', Burgsteeg 14) with Magdalena Golebiowska (vocal)

Roland


18.00 uur

Chinees buffet in 'Loge gebouw' (Steenschuur 6) voor gasten en gastheren/dames


Chinese Buffet at

'Loge gebouw',

(Steenschuur 6)
(music instruments can be left here and collected on saturday)

(Frans + assistentie

werkgroepleden

)

Zaterdag 25 juni








10.30 uur




Verzamelen voor boottocht: terras restaurant

Scarlatti

, (Stlle Mare 4)

Meeting for Boattrip at terrace of restaurant 'Scarlatti', Stille Mare 4

Carel










11.00 - 12.00

uur


Boottocht door Leiden (Carel)

Leave Boat for Boattrip

Carel


12.00 uur

Carillonconcert door

Magdalena

Cynk

vanuit de stadhuistoren
Carillonconcert by

Magdalena

Cynk on Cariilon of the Cityhall

Roland
17.00



Collect music-instruments at 'Loge gebouw', (Steenschuur 6)




18.30 uur



Gezamenlijk avondeten in Activiteitencentrum Noord-Hofland,

Alettahof

. Voorschoten. Aansluitend gezellige avond. Optredens groepen eventueel.
Meal and activities

Frans + werkgroep

21.00

uur

Vertrek gasten naar Torun :(

Departure to Torun :(















Individual Programs


Individual programs



where

Responsible


Donderdag 23 juni










10.00 uur

Hockey

POMORZANIN

Torun ,
Andrzej Affelt


Jakub Pieczatowski





Hockey vereniging Roomburg, Roelof Holl

Roland

8.30

Magdalena Cynk, Jacky Missler, Gosia Skapinska and children,
Musicians

Attend (music-) lesson at Lorentzschool,

Roland

11.00

Musicians Music Scholl Torun and teachers

Leave for The Hague and International Court in The Hague, at 14.00 guided tour in International Court, back in Leiden at 16.00

Roland
Eric, Els

??


Łukasz Maleszewski

Marc Molenaar>TV/camerawerk

Roland

??

verpleeginstelling
Dorota Bożejewicz


Katarzyna Smułek




Zuijdwijck

Ton









To Top
---
SCHOOL SCORE
composer concert
with
students, graduates and teachers
from
Torun Music School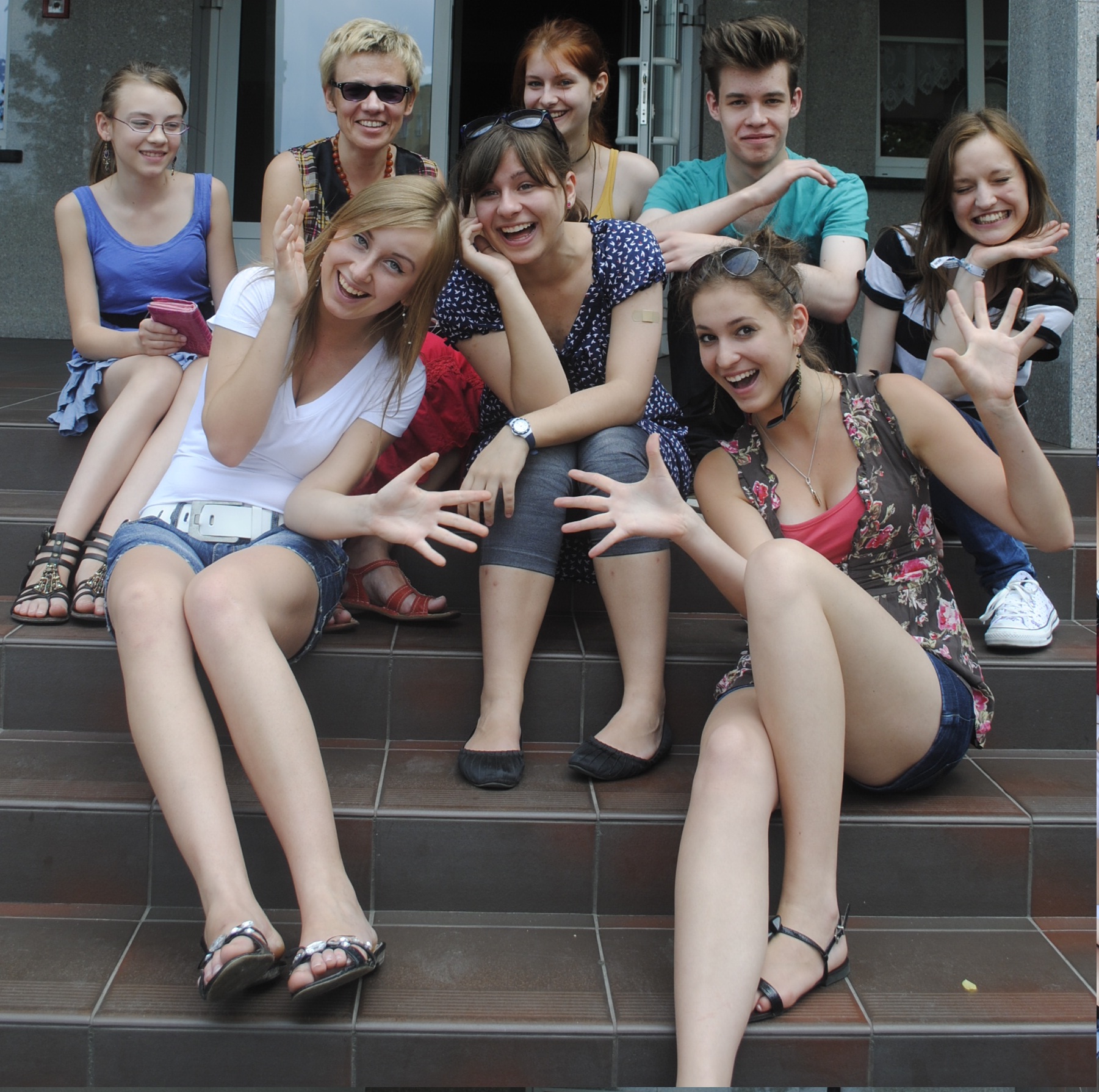 A twelve years ago Torun composer Magdalena Cynk at the local music school organized a unique class where conducting is taught. It consists of children and teenagers.

Young artists have been very successful at national composing competitions, winning many prizes and several graduated already composing in Music Academies in Poland.

All of them have an opportunity to present their compositions at the "School Score" concerts in Torun Artus Hall.

There are presented pieces written by teachers and graduates of the Music School.

This year in Leiden some young artist and their teacher will be present compositions based on fairy tailes, astronomy and polish folk music.
PROGRAMME
1) Maria Cynk – Mikołajewska Kujawiak (Polish folk dance)
Maria Cynk Mikołajewska – skrzypce
Marta Cynk – Mikołajewska – wiolonczela
Monika Sobolewska - piano
2) Marta Cynk – Mikołajewska John and Marry
Blue rain
Maria Cynk Mikołajewska – skrzypce
Marta Cynk – Mikołajewska – wiolonczela
3) Maria Cynk – Mikołajewska Little Mermaid
Maria Cynk Mikołajewska – skrzypce
Marta Cynk – Mikołajewska – wiolonczela
4) Justyna Wróblewska Ursa Minor
Natalia Jastrzembska – violin I,
Jakub Mańkowski – violin II,
Alicja Guściora – viola,
Justyna Wróblewska - piano
5) Justyna Wróblewska Bluebeard
Natalia Jastrzembska – violin,
Alicja Guściora – viola,
Natalia Kowalska - cello,
Justyna Wróblewska - piano
6) Jakub Mańkowski Astronomical Lullaby
Natalia Jastrzembska – violin,
Jakub Mańkowski – piano
7) Jakub Mańkowski Dreamer
Alicja Guściora - viola,
Jakub Mańkowski – piano
8) Zuzanna Koziej Barcarole
Jakub Mańkowski - violin,
Zuzanna Koziej – piano
9) Zuzanna Koziej Wild Swans
Natalia Jastrzembska – violin I,
Jakub Mańkowski – violin II,
Alicja Guściora –viola,
Natalia Kowalska –cello,
Zuzanna Koziej - piano
10) Zuzanna Koziej Krakowiak (Polish folk dance)
Jakub Mańkowski Oberek (Polish folk dance)
Natalia Jastrzembska – violin I,
Jakub Mańkowski – violin II,
Alicja Guściora –viola,
Natalia Kowalska –cello,
11) Ewa Fabiańska Szeherezada
Natalia Kowalska –cello,
Monika Sobolewska - piano
12) Magdalena Cynk Stretto
Natalia Jastrzembska – violin I,
Jakub Mańkowski – violin II,
Alicja Guściora – viola,
Natalia Kowalska – cello
13) Magdalena Cynk Bells Dance
Monika Sobolewska – piano
14) Mateusz Sobiechowski Balladyn
Mateusz Sobiechowski – piano
15) Magdalena Gołębiowska Songs
To Top
---
1. Fryderyk Chopin, Mazurek F-dur op. 68 nr3
2. Fryderyk Chopin (arr. Richard von Grubow), Preludium Des-dur op. 28
3. Fryderyk Chopin (arr. Magdalena Cynk), Preludium c-moll op. 28
4. Fryderyk Chopin (arr. Magdalena Cynk), Preludium e-moll op.28
5. Aleksander Tansman, Kujawiak
6. Albert Gerken, Preludium
7. Jurriaan Andriessen, L'Aube, La Seine
8. Isaac Albeniz, Legenda
9. Lou Reed, Perfect Day
10. Henry Mancini (arr. M. Motohashi), Moon River
1 11. Jeremi Bock , Sunrise, Sunset from "Fiddler on the roof"
12. Astor Piazolla, Libertango
To Top